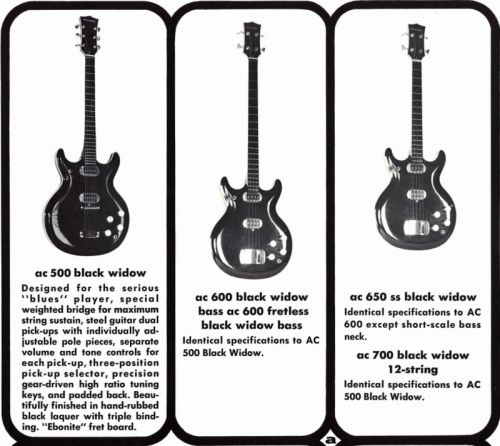 ---
Here is the earliest mention I can find to date of the Black Widow in an Acoustic catalog.  The pic above is taken from the 1969 catalog and shows the line of instruments made by Bartell.  Shown are the guitar (AC500), bass (AC600) and short-scale bass (AC650SS) while the fretless bass (AC600) and 12-string guitar (AC700) are also mentioned.  I like how the guitar is described as being "Designed for the serious "blues" player".  Note that this guitar has the same narrow bridge as the Hohner Black Widow listed in the Guitar Registry, but a different control layout.
---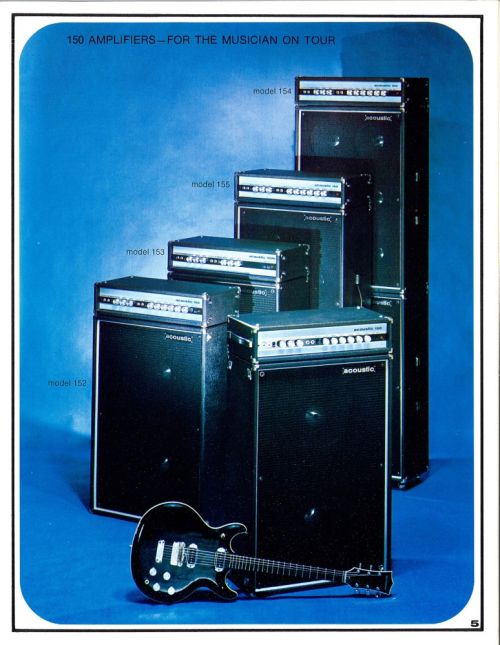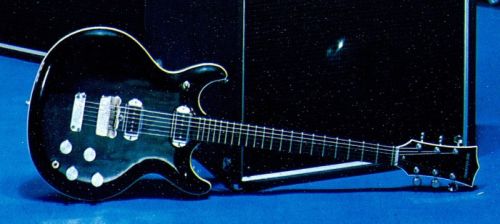 The 1970 Acoustic catalog page shown above displays the Black Widow guitar prominently but there is no mention of it anywhere in the catalog.  The guitar is a Bartell-made 6-string, identified as such by the 22 fret neck, long headstock, and the controls being further from the bridge than on later instruments.  An earlier page in the same catalog showed a semi-hollowbody Bartell bass in the background.
---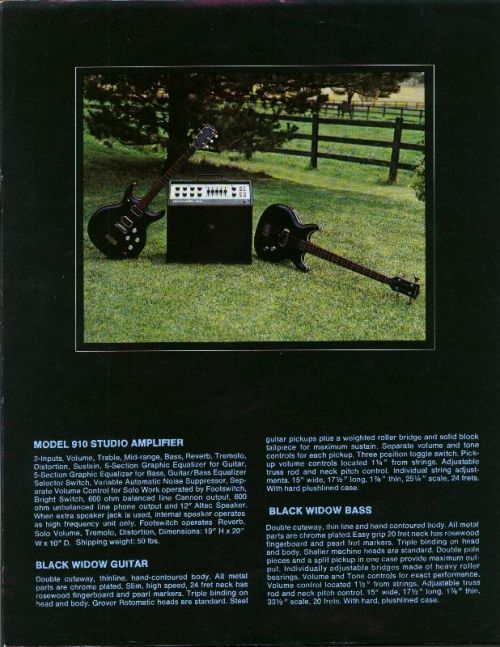 The 1972 catalog featured Japanese versions of both the guitar and bass. There are now 24 frets on the guitar and still 20 frets on the bass. Both are using the 3-bolt neck attachment system of the earlier Bartell models. The guitar's controls were moved forward and a notch was added to the bridge for access to the neck adjustment screw.
---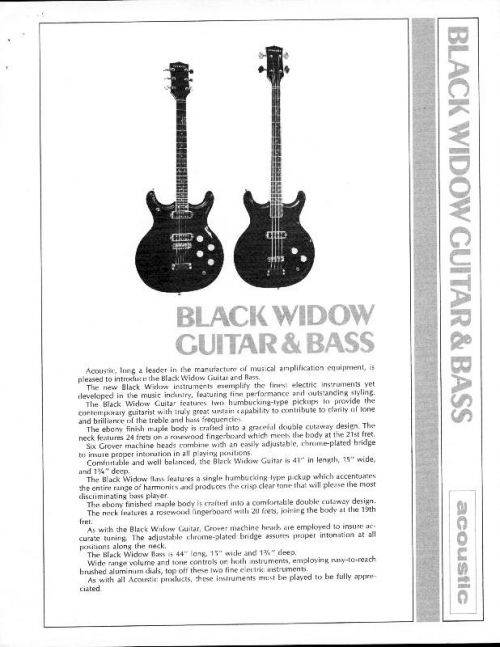 The 1974 catalog featured the Mosrite version of the Black Widow. The guitar has narrow pickups with 2 rows of polepieces although some have full-sized Mosrite humbuckers with at least one unit having what appears to be original Maxon humbuckers. The guitar has 24 frets.
The bass features a narrow pickup like the guitar with 2 rows of polepieces as well. The fretboard of the bass features 20 frets with a large blank area of fretboard past the 20th fret.
Below is the spec sheet from the same catalog. Notice that it lists the guitar's scale length incorrectly as 27".